I am a fan of stripes always have been. Whoever put this notion of they make you look bigger needs to be called aside and have a stern talking to.  There is more to the eye here than just the stripe! The type, thickness and colour may not necessarily suit a particular body-shape but done correctly stripes can minimize problem areas, create curves and look awesome !
Don't shy away from stripes in the fear that they will make you look larger than you are but edit them according to what they do.
 Pear Shaped.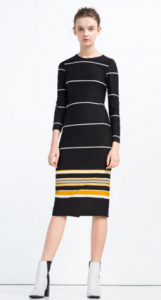 This is easy as that's me! I wear stripes A LOT! My recent purchase was this dress from Zara ( €25.00) and if you look at where the stripes are positioned its perfect for those carrying weight around their bum and thighs. The distance between stripes is big enough to hide shapely thighs and the design at the bottom is vibrant bringing the eye down!
Dress below ( €55 swamp @ crescent SC)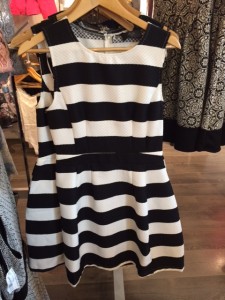 Big busted/Apple Shapes
Thick stripes can make you look bustier, choose a thinner stripe to balance out larger busts and stick to a darker colour.  You have to try on the actual items to see where they sit on you. If you take a black and white stripe dress and you are large busted and the white strips goes right across the bust area this can make you look bustier. The preferred stripe here  if you don't mind your legs ( a lot of apple shape ladies tend to be narrower in the hip) wear a striped skirt and a plain top in a block colour. This will balance out top and bottom!
If you are looking to update, clear or organise your wardrobe contact fiona@fhstyle.ie or 0861775066 for details check out fhstyle.ie
Below I have listed some outfits available in the Crescent SC Limerick which will have you lusting after stripes fairly sharpish !
Complete look Penny's for under €50 
Subtle Stripes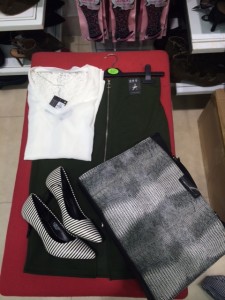 Office Stripes  – Complete look for under €50.00 ( Penny's )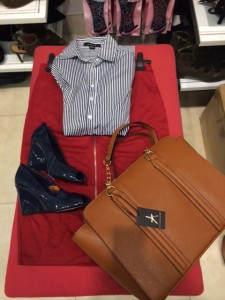 Regal Stripes – Dorothy Perkins @ the Crescent €58.00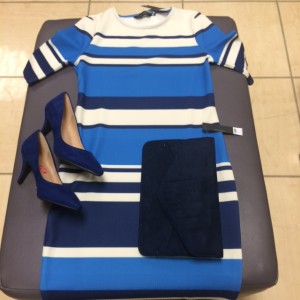 Laid back Stripes – look from Mego at the Crescent SC Complete look €195.00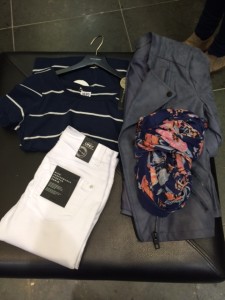 *Star Buy- Crescent SC- Dorothy Perkins all for under €127.00
Chic Stripes..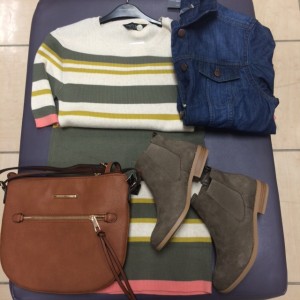 Mug image courtesy of mugbug.co.uk